Fort McRae oil very toxic to humans
2010-10-28 / Front Page¦ Lab results confirm that oil discovered in Pensacola Bay last month has extreme toxicity levels BY SCOTT PAGE Gulf Breeze News scott@gulfbreezenews.com
Test results are in for oil material found in Pensacola Bay late last month, and the numbers are frightening.
A lab experienced in testing petroleum products determined that the oil's toxicity levels are sky-high.
"In its natural state, the numbers are off the chart," said Heather Reed, the environmental expert for the City of Gulf Breeze who made the discovery. "It's extremely toxic to human health."
Lab workers had to dilute the sample 20 times just to get a reading. Reed said samples are usually diluted only once.
"The oil is very well preserved," Reed added. "It smells very strong when pulled out of the water. It made me nauseated." Reed in late September discovered a significant amount of oil buried in submerged sediment near Fort McRae in Escambia County while conducting independent research.
"The oil was in about 3 feet of water and was buried pretty deep in the sediment," Reed recalled. "The mats where between 6 inches and a foot in diameter, but some were more than 2 feet in diameter. I kept digging and finding more and more.
"Finding this submerged oil is very alarming to me because it's in such large mats," Reed explained. "I believe it came into (the bay) in June with the initial impacts."
Reed on Sept. 30 revisited the site and another near Barrancas Beach with BP and Coast Guard officials to inform responders of her discovery. She also discovered oil present at Johnson Beach, Fort Pickens and Orange Beach through research she conducted in September.
The topography near Fort McRae helped preserve the submerged oil. Because the area is a secluded cove, very little water flows through it – resulting in low oxygen levels.
"(The oil) is in an anaerobic environment, so there is not a lot of bacteria to break it down," Reed explained.
Reed said that similar samples that might possibly remain submerged in the Gulf of Mexico could be extremely damaging to the marine ecosystem.
"I am concerned about upwelling events," Reed said. "Strong currents draw up nutrient rich water and sediment from the sea floor that nourishes plankton and other organisms that are the foundation of the marine food chain.
"If an upwelling event brings up any oil material with these toxicity levels, it could be harmful to any animals near the upwelling plume."
Reed is unsure of the effects of the oil on the water quality near Fort McRae.
"The surface area is very large, and it gets pretty deep, so there could be a lot of dilution," she said. "Because it sank and is submerged, it will stay there.
"I would not recommend going into the water."
She explained that the effects near the beach would be different because of more aeration.
Though no oil has been reported on Gulf Breeze shores or in local bayous, those areas could be at risk.
"We don't have any barriers, the Coastwatchers aren't patrolling anymore, and there has been no communication to the city of this oil entering the bay," Reed said.
If oil entered any of the Gulf Breeze bayous, Reed explained that it would sink and become submerged just as it had near Fort McRae.
"It would definitely sink and be preserved," Reed said. "And it would be very difficult to find."
~E
We absolutely have to stay with the people in the Gulf and hear their stories.  You can hear that right here with our own EILEEN.  
It's raining again in my part of Pensacola, which means I can collect my rain sample to send along with water from my creek & lake to Project Tantalus at NYU. I've been having trouble finding the appropriate containers to send them in. They require glass. You wouldn't think it would be so hard to find Mason Jars, or small glass bottles, but it's proving to be fairly difficult! I still don't want to go outside in the rain, so I'm going to wait until it passes and then, after a call to Lowes & Home Depot, I plan to go and retrieve said glass containers!
For those of you who have been following my posts, you already know that some of my outdoor plants have died, or are dying…and I believe it's from the rain. My tomato plants that SHOULD have produced fruit by now, have not. One very odd thing that's happened, was after it rained a week or so ago, one of the 2 pepper plants I have planted next to each other, just shrivelled up and died, while the other is still alive.
Anyway, I'm very anxious to get my water shipped off and find out exactly how much of BP's toxins have reached my back yard. The air SEEMS to be getting better, but we still have "bad air days." Yesterday was one. I can always tell because of how my animals behave (the cats don't want out; in the mornings Leiah hangs her head in pain, til mommy gives her her doggy drugs, and she only wants outside to potty!)  My fibromyalgia kicks into high gear with a headache as well on those days, and I have upper respiratory and sinus flare ups worse than usual. I've had to use my nebulizer several times over the past 90 days or so.
I don't know how long it will take to get my water sample results back, but I will post them here when they do.

~ Eileen
My friend Donna Patrice, took this picture from her bedroom window, on Portofino Island, off Pensacola Beach.
This is why she's doing what she does for the marine and wildlife on our beaches. She's helped expose what BP was doing with the "evidence" of the tiny victims of the sea & beach. She's also putting her own health at risk by doing so. But she feels she MUST do this. I'm glad she's not a religous zealot, lighting herself on fire on the beach! Her way is MUCH more effective!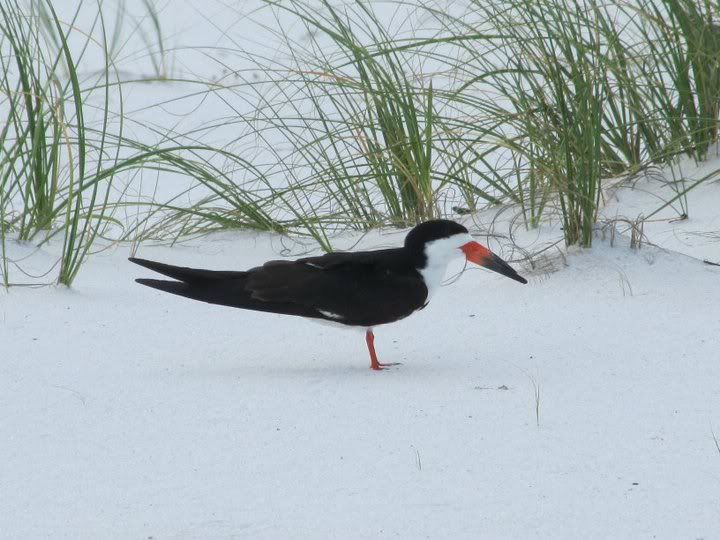 What a beautiful bird. He's a Black Skimmer who makes his home here.
Honestly, if this were actually my back yard, I don't know what I'd do. Probably close the same thing Patrice is. 
The Gulf isn't completely dead, yet. Let's not forget that. There are ways to help, no matter where you live!!
~ Eileen
Jimmy Buffet has caused a bit of a stir here in Pensacola.
First, he announced a free concert, but you had to have a ticket. People camped out, as you can imagine, only to find the tickets sold out in 9 minutes!! What happened? Well, the hotels & other tourist industries were able to snatch up huge numbers of them to put in their special "packages."  Now IF the residents of this area had known that was going to be the case, I don't think anyone would have had a problem with it. We are very aware that tourism is our major industry here. But we didn't know untill afterwards, and a lot of people, who thought the concert was intended to boost the spirits of the locals, were more than a little upset. And oh, we can't forget his new "Margaritaville" hotel on P'cola Beach, or his sister's restaurant, "Lulu's" in Gulf Shores (Lulu's is doing GREAT business! A far cry from the rest of the restaurants around here!)
The concert was originally scheduled for July 1st, but Jimmy was scared of the hurricane that didn't hit us (Thank you, God!) Which meant all those hotels special "packages" weren't worth shit! HA! He rescheduled the concert to be held this past Mon, July 5th.
Jimmy Buffet concert on Gulf Shores Beach 
Personally, you couldn't pay me to go see him! Especially after he's exposed himself to be another greedy, self serving businessman.
Now, he's got literally 1000's of his fans out on a toxic beach, breathing in benzene, and God knows what else from BP's oil spill. And the man wants to be a hero of the beach. I'm calling BULLSHIT on Jimmy Buffet!
If I believed in burning records, etc (and weren't terrified of the fumes!)….I'd call for a big Buffet Bon Fire at my house! Bring your cd's, t-shirts and by all means that stupid looking parrot head gear!
Eileen