"Scientists are "surprised" to find that the size of individual fish in the world's oceans is likely to shrink by as much as one quarter in the coming decades. The use of the word suggests that chaos theory—which says the particulars of the breakdown of the earth's ecosystems are unpredictable—is going unread, disbelieved or ignored. Chaos theory does not lend itself to explanation in plain English. It is notoriously difficult to get across to the public. Even the highly educated can have a tough time grasping its abstract meanings and implications. In general terms, the theory holds that as an increasing number of essential parts of a complex system break down—such as a stock market, climate or mechanical engine—the overall system is destabilized, and its exact behavior becomes impossible to predict. This event precedes what's known as "runaway," which occurs when a critical number of those parts stop working and irreversible "tipping points" have been passed. At this stage, the only thing that can be predicted with certainty is that the system will deteriorate with increasing acceleration. Just as water always runs downhill, the processes triggered in runaway will continue irreversibly and on their own, and no one can tell what the final results will be."
—
Alexander Reed Kelly: What Environmental Reporting Leaves Out - Truthdig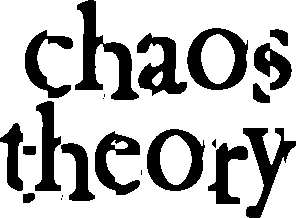 Gooood article!!   Anyone who doesn't understand chaos theory should watch Jurassic Park (or see video below)!     But this element that Mr Kelly focuses on it exactly what deniers focus on to push their point.  It was the whole crux of the "climategate" emails, and so much more.   
His last statements are very powerful:
"None of this suggests that scientific research is meaningless. It simply shows that predictions made early in the process of growing chaos should be regarded as snapshots in time, relevant for only a short while. Scientists remain our best forecasters of what's to come, but they can see only so far into the earth's future. Aside from the unsettling fact that the systems that support human and other life are disintegrating at an increasing rate, no one can say for sure exactly what the world we're rushing into will look like."
Here's more on Chaos Theory:
A shout out to the JuevesFilosofico.com website for the graphic and link to video.  Thanks!